Not only in takeaway restaurants paper chip cones are a loved way to serve fresh chips, also the best restaurants serve their chips more and more from a paper cone.  They serve the chips in a paper cone as a side dish and put the cone in a stylish stainless steel cone holder or lay a small cone at the edge of the plate. This is because the paper keeps the chips warm and crispy.
Our paper cones and holder are very nice serving many other things besides serving chips. You will be amazed by your own creativity in finding new applications.
Stainless steel chip cone holder
Our stylish chip cone holder is made of stainless steel which makes it dishwasherproof. The paper cone, cone holder is 17 cm high and suitable for paper cone PC 17 and bigger.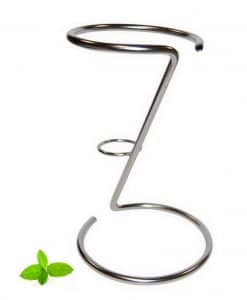 Looking for a holder to carry several cones or to present different snacks in paper cones on your tabel. Use our NEW wooden 1 meter chip cone holder. Suitable for 11 paper cones and made of varnished FSC certified wood. The one meter long holder is suitable for PC 13 to PC 17. Make your chips look beautiful with this stylish holder.